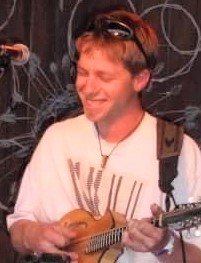 Obituary of Jacob Cohen Pitzer
Jacob Cohen Pitzer passed away at the age of 40, Thursday, August 5 th , at the Pitzer family farm. Jake was born at home in Leesburg, Ohio to Keith and Joan (Lundy) Pitzer on June 21, 1981. He was a big-hearted and loving son and spent his early years playing with his brothers, Seth, Zachary and Jesse Pitzer on a farm in Clinton County, Ohio. He took to playing music, his lifelong love, at an early age, beginning with fiddle at the age of 5. In 1990 the family moved to Preston County, West Virginia to their own farm atop Laurel Mountain, where music continued to play a major role in his family life. Jake was an avid reader at home and bright student yet he preferred his classes in the greenhouse at Preston High, being an outdoor nature lover. He was loved by many for his contagious laugh, genuine smile, generous heart, and sometimes ornery attitude. His only enemy was a spider. Throughout high school, Jake expanded his musical chops with close friends Ryan Snyder, Chris Bern, and Greg Short, Jr (Shorty) at the Snyder cabin, the Brand cabin, or his own mountain top home. Their first gig as a foursome was the Rowlesburg Labor Day Ox Roast in 1997. Through the river community the guys met fellow musician, Rick Chaney, and formed the newgrass band, From the Hip. Soon after, his father, Keith, picked up a mandolin and joined the group. They went on to play shows at regional venues including infamous sets at the Brewpub, Purple Fiddle, Cheat River Festival, and Poppy Mountain Bluegrass Festival. Once Keith stepped out of the band, Jake's innate musical ability and songwriting skills lead him to commandeer that mandolin and he never gave up pursuing the nimblest (Sam) Bush "butterfly". Jake was a driving force inside a music circle and his ability to add, compliment and blend a group sound was gifted and impressive. From the Hip released their album Closer to Home in 2004. After graduating from Preston High School in 1999, Jake trained as a river guide and worked for Appalachian Wildwaters on the Cheat River and later for Wilderness Voyageurs in Ohiopyle. Many lifelong friends and good memories were made within the river community. But the raft guide life could not last forever so Jake took a job with K&A Contracting, learning valuable carpentry skills on the job from his mentor and friend, Jim Metheny, along with co-worker and long time friend, Reggie Liston. He had a fine attention to detail and wasn't intimidated by heights, later building his mother's house up on the family farm. Jake worked for K& A Contracting for several years before starting his own company, Cohen Contracting in 2008. He was always generous with giving of his time as demonstrated by his help with endless family and friend projects (tree felling, roof raising, foundation reinforcement, deck building so so many!), as well as projects for FOC (fest site outdoor classroom, stage, pavilion and many more) and FODC (outdoor classroom). Of all of his talents, music was his strongest and his greatest passion. Having grown up in a house filled with music from both his parents and many talented friends, his father in particular became his largest musical inspiration, mentor and picking partner. Over the decades he played in various groups and formations, notably, Medicinal Whiskey, The Clear Mountain Boys with longtime and close friend, Lindsey (Clear) Jaquay, String Fever, the beloved family trio of Keith, Joan, and Jake, a reinvigorated From the Hip with his youngest brother, Jesse, and their mother, and Aurora Celtic with Chris Bern, Alice Fleischman and Mike Broderick. In addition there were ever so many magical musical moments at the family farm with close friends and brothers, Zach and Jesse, while oldest brother, Seth, infamously took leads on his "air" guitar. If Jake had another love, it was Amanda Lachowski. Jake and Amanda met in 2005 at a music festival in Ohio. The set of their love story was the Cheat River valley with the Pitzer family providing her first insights into Preston County and the Cheat River. Jake and Amanda were known for their gatherings at the river house in Preston and then the family farm, including New Year's Eve parties and the annual Horseshoe Tournament. Some of their most special times were simply spending time with Keith and Joan at the farm and traveling for String Fever gigs. Jake will forever be remembered by his many friends and family as a kind and gentle soul with a love for the open spaces and a gift with music. Jake is survived by his dedicated mother, Joan Pitzer, and brothers Seth, Zachary (aka Zak), and Jesse (Moriah) Pitzer; his niece, Lilly Pitzer, and nephews, Isaac Pitzer (Seth), and Gavin Pitzer (Zachary); and former spouse and loving friend, Amanda Pitzer. In addition, he is survived by many loving cousins, aunts and uncles. Jake was preceded in death by his father, Keith A. Pitzer, and grandparents, Homer and Suzanne Lundy, Ruth and Albert Pitzer. Family and friends will celebrate Jake's life at the Pitzer family farm on September 18, 2021 at 1:00 p.m. In lieu of flowers the family requests donations be made to Friends of the Cheat. www.cheat.org Condolences may be made at www.arthurwrightfuneralhome.com
A Memorial Tree was planted for Jacob
We are deeply sorry for your loss ~ the staff at Arthur H Wright Funeral Home
Share Your Memory of
Jacob

We are proud to be serving Terra Alta, West Virgina and all of our surrounding communities.


Arthur H. Wright Funeral Home - Established in 1985
About Us
This beautiful brick home situated on Highland Avenue was built in 1898 by Sylvester Rinerd as a summer home. It was named Sunset Hall and was the first large home built on the hill.

Location
105 Highland Ave.
Terra Alta, WV
26764

Tel: (304) 789-2291

Due to telephone issues: If we can not be reached at the number above, Please call our other location (304) 864-5295.

Fax: (304)789-2292