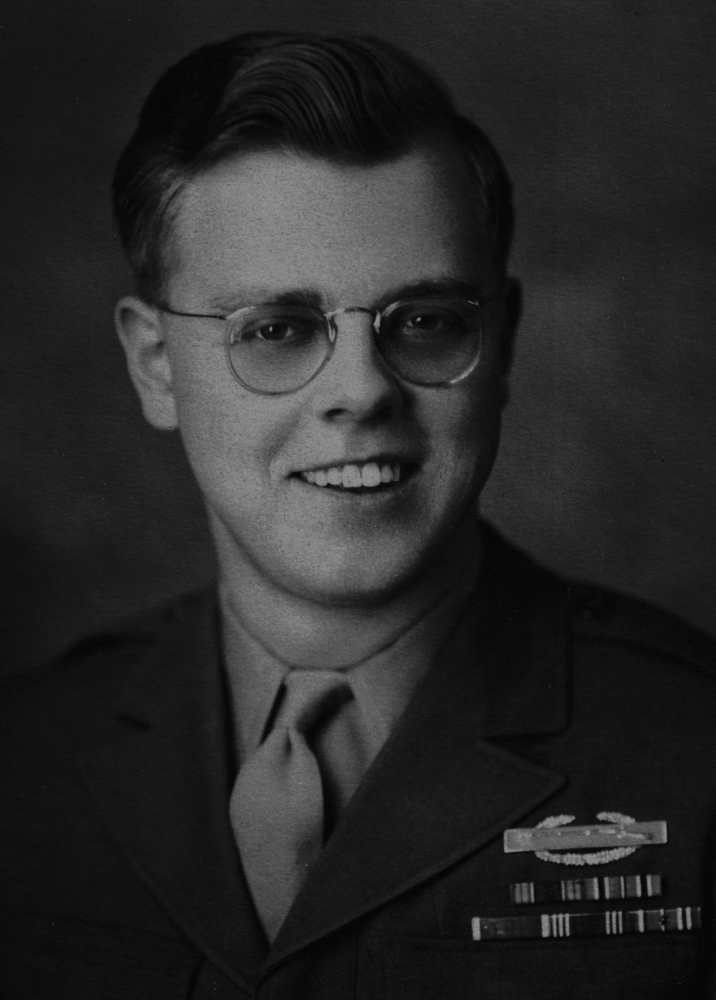 Obituary of Charles E. Minor
Charles Edward Minor,
94, formerly of Terra Alta, passed away peacefully at the West
Virginia Veterans Nursing Facility, Clarksburg, on August 16, 2019. He was born on July
11, 1925, in Monongalia County to James Beryl Minor and Nettie Faust Minor.
Known to all as Charlie, he fought at Holzthum, Germany, during the Battle of The
Bulge as a member of 110th Infantry 28 Division Company L. He reached the rank of
sergeant before being discharged in 1946. After the war, he graduated from WVU as an
economics major where he set up the first grocery co-op for veteran students and their families.
Until 1968, he was active in the grocery business in West Virginia, Maryland, and finally
New York as a district manager for Grand Union. When he wouldn't cross the union
picket lines, he accepted a store manager position in Fredericksburg, Virginia. It was
there that he decided to follow his dream and become a homebuilder like his
grandfather. Known as "The Happy Homebuilder," Charlie and his family built and sold
hundreds of homes in the area and developed six or more subdivisions. He chose to
teach locals construction skills instead of hiring out-of-state workers or subcontractors.
Home construction remained throughout his life. He and his sons built homes in
Southern WV, Fairmont, and lastly in Terra Alta and Alpine Lake. He also volunteered
for Habitat for Humanity in Preston County and Lady Lake, Florida.
Charlie was a current member of the American Legion Post 68 in Bridgeport, WV, and a
former member of Trinity United Methodist Church, Terra Alta, where he was a Boy
Scout volunteer.
In addition to his parents, Charlie was preceded in death by his high school sweetheart
and wife, Jean Hovey Minor, and the last love of his life, Rose Nordeck Minor. Two of
his children, Richard Minor and Sherry Minor, also predeceased him along with his two
brothers, James Minor and Robert Minor, and son-in-law, Richard Griffin.
Charlie is survived by three children: James G. Minor and his wife, Kimberly,
Morgantown; Charles E. Minor, Jr., and his wife, Jenni Mills, Alpine Lake; Melody A.
Minor, Quiet Dell. He also leaves behind three stepchildren in the Terra Alta area:
Steven A. Nordeck and wife, Karen; George V. Nordeck and significant other, Linda
Hall; Diane L. Nordeck.
Charlie had nine grandchildren: Richard Minor, Jr.; Melissa M. Dausen; Elizabeth Minor;
Stephanie S. Westheiden; James G. Minor, Jr.; Kimberly L. Keener; Karel I. Minor; Kelly
Waldrep; Emerald J. Granata. He also loved being Granddad to three step-
grandchildren: Rebekah Panico; Sarah Nordeck; and Michael Nordeck. He is survived
by 18 great grandchildren, 8 great great grandchildren, and several nieces and
nephews.
Per his request, Charlie was buried at the West Virginia Veterans Cemetery near
Pruntytown after an Honor Guard service for family and friends on August 20, 2019.
The family wishes to thank the staff at the West Virginia Veterans Nursing Facility for
their respect and care for Charlie during his stay.
A Memorial Tree was planted for Charles
We are deeply sorry for your loss ~ the staff at Arthur H Wright Funeral Home
Arthur H. Wright Funeral Home - Established in 1985