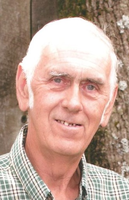 Clarence Wade Feather
Clarence Wade Feather, 68, of Terra Alta, died Saturday, September 29, 2018 at home surrounded by his loving family.
He was born March 12, 1950, in Terra Alta, a son of the late Charles Wade Feather and Loretta (Bishop) Duckworth.
Clarence graduated in 1968 from Terra Alta High School. He retired in 2015 from the Green River Group where he worked as a heavy equipment operator. He served on the Terra Alta town council and loved going to auctions and spending time on the farm. He was a classic car buff, especially Chevy, and enjoyed watching the Barrett-Jackson car auctions.
Clarence is survived by his loving wife of 45 years, Brenda (Watring) Feather; three daughters, Shannon Friend and Craig of Grafton, Crystal Hardesty and Jamie of Terra Alta and Valerie Moyer and Matt of Reedsville; three grandchildren, Sydney Friend, Wyatt Moyer and Eli Moyer; three sisters, Linda Friend and Sam of Cranesville, Hope Bowman and Rick of Mt. Lake Park, MD, and Ruth Hauger and Mike of Terra Alta and several nieces and nephews.
He was preceded in death by his in laws, Ray and Blanche Watring; two nephews, Michael Friend and Danny Joe Rhodes and a brother and sister in law, Charlie and Linda Himelrick.
Family and friends will be received at the Arthur H Wright Funeral Home in Terra Alta, on Tuesday, October 2, 2018 from 2-4 and 6-8 p.m. The funeral service will be 2pm on Wednesday, October 3, 2018, at the funeral home with Rev. Gene Turner officiating. Interment will follow in the Lenox Memorial Cemetery formerly the Lutheran Cemetery in Lenox.
Condolences may be made at www.arthurwrightfuneralhome.com