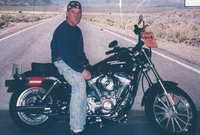 Leslie Paul Henson
Leslie Paul Henson,
56, of Terra Alta died Wednesday May 16, 2018 at his home.
The son of the late John H. Henson and Mary J. Henson Metheny, he was born August 25, 1961 in Baltimore, MD.
He was a member of Lakeside Assembly of God Church in Oakland, MD. He enjoyed riding his Harley Davidson. He loved everything the outdoors had to offer. He loved different types of music and working with his hands from mechanic work to creating.
He is survived by a son, Shaun P. Henson of Blairsville, PA; two sisters, Donna J. McCloud of Terra Alta and Mary Kim (Joe) Fazenbaker of Grantsville, MD; two brothers, John D. Henson of Baltimore and Mark Kevin (Debbie) Henson of New Castle, PA and numerous nieces and nephews.
In addition to his parents, he was preceded in death by a sister, Darlene L. Pearsall.
Family and friends will be received at the Lakeside Assembly of God Church, 18012 Garrett Hwy, Oakland, MD from 11:00 a.m. on Monday, May 21, 2018 until the 1:00 p.m. time of service with Pastor Dennis Caton officiating.
Condolences to www.arthurwrightfuneralhome.com