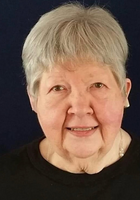 Ronnie Lee Grove
Ronnie Lee Grove, 77, of Berkeley Springs, WV passed away on Saturday, January 22, 2022.
She was born March 5, 1944, to Charles Gilbert Grove and Anna Suella (Caldwell) Grove in Lyons, New York. She excelled academically throughout her public education years, graduating Berkeley Spring High School Class of 1962, where she served as vice-president of their Student Body Council and in other leadership roles. She married Melton Rondelle Grove and began a number of successful, self-employed enterprises. These included local seamstress, creating formal wear for proms and weddings, being a regional manager for Tupperware, learning drafting skills to create construction blueprints professionally, owning and operating a Sears Catalog Store commercially. She also spent years working and eventually retired from the Berkeley Springs Main Branch Citizens National Bank.
Ronnie was creative and inventive, able to adapt all kinds of everyday items into engineering feats to overcome seriously frustrating challenges her physical restrictions generated. Her responses to those challenges were often self-deprecating and humorous. It is impossible to sum up Ronnie's spirit and determined courage in a few lines. She was a warrior against primary lateral sclerosis (PLS), the neurologically degenerative disease that caused so much debilitation to her body, but never her soul.
She was a friend to so many, especially those whom she met through Spastic Paraplegia Foundation online and at in-person conferences. In lieu of flowers, you may donate in Ronnie's honor to https://sp-foundation.org/get-involved/donate-here/many-ways-to-donate.html
Ronnie was preceded in death by her parents and her husband. She is survived by one brother, Charles Grove, Jr (Connie) of Terra Alta, WV; one sister, Rev Jennifer (Dr Chris) Bryan, Lenexa, KS; three nieces, Carla (Kevin) Fike, Jill (Scott) Payne, and Erin Bryan; one nephew, Christopher (Sarah) Grove, and many great, as well as great-great nieces and nephews.
Because of the current rise of the omicron variant of COVID, her family is planning a Memorial Service on August 12, 2022, at 11:00 am at Trinity-Asbury Church in Berkeley Springs, WV, with Rev. Chuck Bergen officiating. As Ronnie requested, a private family burial service will follow.
Condolences may be made at www.arthurwrightfuneralhome.com