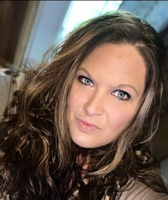 Leah Ann Feather
Leah Ann Feather,
40, of Terra Alta passed away Sunday December 19, 2021 at Ruby Memorial Hospital, Morgantown.
The daughter of Richard Lynn and Cynthia Sue Vandevender Feather of Terra Alta, she was born September 18, 1981 in Morgantown.
Leah was employed as a behavioral health tech at Garrett County Lighthouse and had been a house manager at Rescare.
Leah loved helping people in need and was very kind and tinder hearted. She was a good mentor and could push people in positive ways. She loved her family and was very close with her extended family that have wonderful memories of growing up together on the farm. Her cousin, Boots Feather, was near and dear to her. She enjoyed crafts, makeup, nails, decorating and had a beautiful voice. She loved her fur babies, Molly, Kimber, Havoc and Marty.
In addition to her parents, she is survived by her fiancé, Auston Edwards; her sister and best friend, Codie Lynn Feather and fiancé David Hardesty of Eglon; nieces and nephews, Wyatt Reed Henson, Raelynn Jade Henson, Masen Hardesty and McKenna Hardesty; mother and father-in-law, Linda Gall and James Edwards and family of Martinsburg and many aunts, uncles, cousins and friends.
She was preceded in death by her paternal grandparents, Ralph and Maxine Feather and maternal grandparents, George and Oda Vandevender.
To honor her wishes, cremation services have been provided by Arthur H. Wright Funeral Home, Terra Alta. There will be a memorial service held at a later date.
Condolences may be made at www.arthurwrightfuneralhome.com