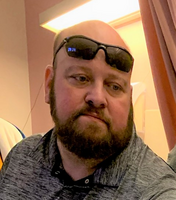 Kenneth Lloyd Fike
Kenneth L. Fike,
52, of Terra Alta died Monday October 25, 2021 at Mon General Hospital surrounded by his family.
The son of the late Karen E. Spahr Helmick and Willard Helmick, he was born October 16,1969 in Morgantown.
Anyone who knew Kenny would say he was the life of the room. He could put a smile on anyone's face. Known to many as "Bull", his stature did not even compare to the size of his heart. He was a friend to everyone. In his youth, Kenny was an excellent football player, which earned him All-State honors. He continued to love football and was an avid college football fan. As an adult, he continued to give back to his community by devoting much of his life to police work. He was an avid fisherman and was happiest when he had a line in the water.
Kenny fondly referred to everyone with a nickname; his brother, Kevin "Bubba" and wife Carla Fike and sister, Krista "Gooch" and husband Mathew Nazelrod all of Terra Alta; four nephews, Kurtis (Kelly), Kyle (Jen) and Kelvin (Sabrinia) Fike and Lukas "The Hulkster" Nazelrod; one niece, and his namesake, Kendra "Baby K" Nazelrod; great nephews and nieces, Korah, Kevin, Brycen, Wyatt, Drew, Kali and Meredith, and many friends.
In addition to his parents, he was preceded in death by his Grandparents, Harland and Althea Spahr and his uncle, Gary Spahr.
In lieu of flowers, donations may be made to Operation Underground Railroad for Missing and Exploited Children, PO Box 57338, Salt Lake City, UT 84157 or https://ourrescue.org/
Family and friends are invited to a memorial service to be held November 6, 2021, at the Alpine Lake Boat House at 1:00 p.m. with Pastor Jeff Anderson officiating . A celebration of life service will continue afterwards at Kenny's request.
Cremation services provided by Arthur H. Wright Funeral Home, Terra Alta.
Condolences may be made at www.arthurwrightfuneralhome.com