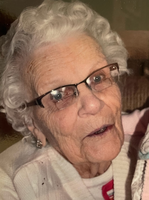 Alice Marie Spahr
Alice M. Spahr of Terra Alta died Wednesday, August 25, 2021 at home with her daughters by her side. She would have been 96 years old on September 2. She was born in 1925 in Canon City, Colorado, the daughter of the late Antone and Inez Thomas of Coal Creek, Colorado.
In addition to her parents, she was preceded in death by her daughter Peggy in 1960, her son Tom in 2020, her husband Harry Thomas Spahr, Sr., four brothers, three sisters, and a son-in-law, Berlin Graham.
She is survived by two daughters, Linda (Roger) Lewis and Mary Alice Spahr, both of Terra Alta, two grandchildren, Andrew (Gail) Graham and Katie (Jacob) Harman, both of Morgantown, four great-grandchildren, four step-grandchildren, nine step-great-grandchildren, one sister, Mary Kuklinski of Denver, Colorado, three foster daughters, numerous nieces and nephews, and special friends Ashley Belote, Cathy Teets, and Jane Gibson.
She was a member of the First United Methodist Church of Terra Alta where she taught Sunday school and Bible school for many years. She worked for years as a cook and baker at Spahr's Exxon and Restaurant in Terra Alta and was known for her homemade pies, cinnamon rolls, bread, and rolls. She loved gardening, canning, and camping with her family.
Family and friends will be received at Arthur H. Wright Funeral Home, Terra Alta from 10:00 a.m. on Thursday September 2, 2021 until the 12:00 noon memorial service with Rev. Michael Lantz officiating. Inurnment will follow in the Terra Alta Cemetery.
In lieu of flowers, the family asks for donations in her memory to the Stained Glass Restoration Fund at the First United Methodist Church of Terra Alta, 331 East State Avenue, Terra Alta, WV 26764.
Condolences may be made at www.arthurwrightfuneralhome.com