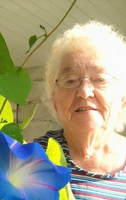 Dorothy Josephine Grace Freeland
Dorothy J. Freeland,
91, of Terra Alta (Freeland Settlement Community) died Friday August 16, 2019 peacefully at home surrounded by her family.
The daughter of the late Lewis W. and Lova B. Wilhelm Wolfe, she was born March 4, 1928 in Terra Alta.
She was a member of Freeland United Methodist Church. She retired from Hopemont Hospital in 1989 with over 20 years' service. Dot was an avid gardener. She loved flowers, vegetable gardening and her orchard. She crocheted many baby blankets and made many wedding quilts for others. She loved to cook for family and friends. She was a loving wife, mother, grandmother and great grandmother.
She is survived by her husband of 58 years, Robert O. Freeland; two sons and spouses, David A. and Angie Freeland and Gary R. and Lisa Freeland all of Terra Alta; a brother, Elmer Wolfe of Kingwood; four grandchildren, Jonathan Lewis (Nicole), Jay Lewis and fiancé Lori, Chelsea Freeland and fiancé Nathan and Aimee Lytle (Greg); and 10 great grandchildren.
In addition to her parents, she was preceded in death by two brothers and two sisters.
Family and friends will be received at the Arthur H. Wright Funeral Home, Terra Alta on Monday from 2-4 and 6-8 and from 10:00 am on Tuesday, August 20, 2019 at the Trinity United Methodist Church until the 11:00 am time of service with Rev. Eric Beeman officiating. Burial will follow in the Terra Alta Cemetery.
Condolences to www.arthurwrightfuneralhome.com