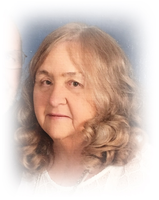 Nancy Pauline Haskiell
Nancy Pauline Haskiell,
69, of Terra Alta, died Wednesday January 23, 2019 at Garrett Regional Medical Center, Oakland, MD.
The daughter of the late George T. Cannon and Elizabeth Ruth "Betty" Cramer Cannon Sypolt, she was born December 25, 1949 in Parsons, WV.
She was a member of the Oakland Church of the Nazarene. She spent most of her life taking care of others, at Hopemont Hospital, foster parenting and group homes.
Nancy was a loving wife, mother and extra special grandmother. She enjoyed spending time with the grandkids fishing and attending their sporting events.
She is survived by her husband, Bob Haskiell; two sons and spouses, Rob and Teresa Haskiell of Winchester, VA and Tony and JoLeen Haskiell of Terra Alta; seven sisters, Helen (Butch) Lantz, Brenda (Keith) Murphy, Angie Sypolt and Jeff Dillsworth, all of Terra Alta, Karen (Gene) Pyles of Kingwood, Lynn (Eric) Sanders of Kentucky, Sheran Redmond and partner Karl Myers of Parsons, Pam (Steve) Morgan of Ripley and Sandy Calvert of Masontown; one brother and spouse, William "Bill" and Joyce Cannon of Ripley; five grandchildren, Christopher (Kayleen), Caleigh, Ethan, Tanner and Jared; and step father, Audry Todd Sypolt of Terra Alta.
In addition to her parents, she was preceded in death by an infant son, Brian Thomas Haskiell and two step brothers, Cliff and Greg Sypolt.
There will be a memorial service held at a later date.
Condolences may be made at www.arthurwrightfuneralhome.com