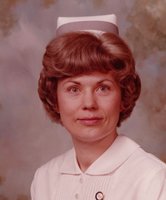 Linda Joan Williams
Linda Joan Emerson Williams,
76, of Oakland, MD and formerly of Terra Alta, WV, passed away on December 29, 2018 at Oakland Nursing and Rehab Center.
The daughter of the late James and Beatrice Emerson, she was born July 20, 1942 in Mississippi.
Linda was a retired Licensed Practical Nurse at Reynolds Memorial Hospital in Glen Dale, WV. She was a loving wife, mother and grandmother. She was a member of Moundsville Baptist Church in Moundsville, WV and sang beautifully in the choir.
She is survived by her two granddaughters, Eva Joan Williams Anderson and Laurena Leeann Williams Wanat; two great grandchildren, Luke Anderson and Leila Williams and her aunt, Mary Lou Conn.
In addition to her parents, she was preceded in death by her husband, William L. Williams Sr.; her son, William (Billy) L. Williams II and her sister Margaret (Peggy) Elias.
Family and friends will be received at the Arthur H. Wright Funeral Home, Terra Alta from 12:00 noon on Monday December 31, 2018 until the 1:00 p.m. time of service with Rev. Ross Glotfelty officiating. Burial will follow in the Terra Alta Cemetery.
Condolences may be made at www.arthurwrightfuneralhome.com