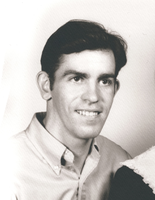 Robert Clinton Funk
Robert Clinton Funk,
71, of Terra Alta, died Monday, January 8, 2018 at home.
The son of the late Lottie M. Purnell and Robert S. Funk, he was born May 31, 1946 in Tunnelton.
He was a U.S. Army Vietnam Veteran and a life member of VFW post 578. He was a retired coal miner of 32 years. He was a CB fanatic with a handle of "Coal Miner".
Robert is survived by his wife of 49 years, Erma White Funk; one son, Robert C. Funk II and fiancé Alicia Bailey; two daughters, Holly D. Funk and companion James Sisler and Johnna Morgan and companion, Scott Riley, all of Terra Alta; two brothers, Roger Funk of Enterprise and Jerry Purnell and wife Bobbie of Terra Alta; one sister and spouse, Toots and Dick Giuliani of Masontown; seven grandchildren: Alex, Dylan, Lily and Lucien Funk, Leila and Liam Sisler and Molly I. Flood.
In addition to his parents, he was preceded in death by a grandson, Logan Sisler, and infant sister, Cindy Funk, mother and father-in-law, Margaret and Earl White and a special niece who shared the same birthday, Melissa Metz.
The family request only living plants, and donations may be made to the Preston County Animal Shelter, 278 Poor Farm Rd, Kingwood, WV 26537.
Family and friends will be received at the Arthur H. Wright Funeral Home, Terra Alta on Thursday from 2-4 and 6-8 and from 10:00 a.m. on Friday, January 12, 2018 until the 11:00 time of service with Rev. Charles May officiating. Burial will follow in the Terra Alta Cemetery. Military honors will be provided by the Preston County VFW Posts, the Vietnam Veterans of America Chapter 977 of Preston County and the WVARNG Honor Guard, Camp Dawson.
Condolences may be made at www.arthurwrightfuneralhome.com