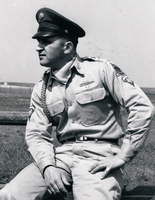 William Clyde Hull
William Clyde Hull,
92, of Terra Alta (Cranesville Community), died Thursday, January 4, 2018 at Preston Memorial Hospital, Kingwood.
The son of the late Simeon E. and Ida May Haught Hull he was born August 21, 1925 at Terra Alta.
Clyde was a World War II, Korean Conflict, Vietnam Era and Peacetime veteran. He served in the Army from November 6, 1943 to January 1, 1970. He was a prisoner of war in WWII European from September 19, 1944 to April 28, 1945. He was a life member of VFW Post 578.
He is survived by his wife, Glennadean Hull; one son, Dan Hull of Charleston, WV; a daughter and spouse, Sandra and Allen Sisler of Gilbert, SC; four grandchildren, Dan II, Tammy (Brian), Shasta (Brent) and Kate; 8 great grandchildren, Kevin (Kendra), Willie, Todd, Samantha, Colton, Ivy, Shelton and Ainsley and one great great granddaughter, Elizabeth.
In addition to his parents, he was preceded in death by a grandson, Dakota Hull; 2 sisters and 6 brothers.
Family and friends will be received at the Arthur H. Wright Funeral Home, Terra Alta from 12 noon on Saturday January 6, 2018 until the 2:00 p.m. time of service with Rev. Eric Beeman officiating. Military honors will provided by the Preston County VFW Posts, the Vietnam Veterans of America Chapter 977 of Preston County and the WVARNG Honor Guard, Camp Dawson. Burial will be in the Oak Grove Cemetery.
Condolences may be made at www.arthurwrightfuneralhome.com