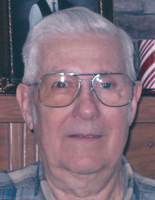 Clayton LeRoy Hauser
Clayton LeRoy Hauser, 88, of Terra Alta, passed away Friday December 29, 2017 at Windy Hill Village in Kingwood.
He was born December 14, 1929 in Eglon, WV a son of the late Roy Hauser and Vada Kennedy Hauser.
Clayton was a Woodsmen of the World Camp11-Md and past member of the board at the Preston County Senior Citizens. He had worked for Preston County as a dog warden / humane officer for almost 30 years and spent many years farming at his family farm.
He is survived by his wife of 29 years, Dorothy Calhoun Hauser; one daughter, LaDeana and Mark Teets of Amboy; two grandsons, Thomas and Jennifer Teets of Alexandria, VA and Lindsey and Rebecca Teets of Amboy; five great grandsons, Benjamin, William, Jonathan, Timothy and Samuel Teets; one brother, Charles Lloyd and Shirley Hauser of Essex, MD; three step children, Connie and Joseph Gibson of Terra Alta, Donald and Patricia Calhoun of Terra Alta and Bonnie and Everett Barlow of Howesville; three step grandsons, Franklin and Jamie Schnopp, Adam and Bridgett Gibson and Andrew and Sara Calhoun; one step granddaughter, Jennifer Gibson Smith and James; five step great grandchildren, Autumn, Nate, and Taylor Schnopp, and Owen and Ava Calhoun; brother in law, David and Arlene Calhoun; sister in law, Barbara Lee and several neices and nephews.
In addition to his parents he was preceded in death by his first wife, Wanda Calhoun Hauser on December 3, 1986.
Friends may call at the Arthur H. Wright Funeral Home in Terra Alta on Monday January 1, 2018 from 2 to 7 p.m. and on Tuesday January 2, 2018 from 10 a.m until the 11 a.m. servive time with Clayton's daughter and son in law, Pastors LaDeana and Mark Teets officiating. Interment will follow in the Oakland Cemetery, Oakland, MD.
Condolences may be extended to the family at www.arthurwrightfuneralhome.com