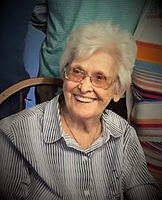 Garnet Hazel Elsey
Garnet Hazel Niner Elsey, 98, of Mt. Sterling, KY, formerly of Terra Alta, WV, passed away Friday, December 22, 2017.
Born October 30, 1919 in Dunbar Township, PA, she was the daughter of the late Joseph and Hester A. (Teets) Niner. She was a loving wife, mother, and grandmother and member of the Trinity United Methodist Church in Terra Alta, WV.
Garnet was a devoted Sunday School Teacher and served as Director of Vacation Bible School for many years. She is a certified lay speaker/preacher, sang in the choir and a quartet, and loyally served on numerous committees. At the age of 80 she went on a Mission trip to Wales in the United Kingdom where she taught Bible School and preached for 10 days. She loved to sing and play ball, but her greatest joy was spending time with her family.
Garnet is survived by her daughter, Pauline Alice Hill (Ron) of Mt. Sterling, Kentucky; three grandchildren, Rodney Hill (Georgia) of Tequesta, Florida, Becky Staton (Randy) and Danny Hill (Lisa) of Mt. Sterling, Kentucky; five great-grandchildren, Jacob Hill, Zachary Hill, Dane Hill, Layne Harkness (Devin), Zane Hill (Abbi); and four great-great-grandchildren, Lucas and Henry Harkness and Brady and Huxley Hill.
In addition to her parents, she was preceded in death by her husband Clarence M. Elsey; three brothers, Robert, John, and Ray Niner; and three sisters, Olive Shirley, Grace Moon, and Ruby Dodge.
Family and friends may call at the Trinity United Methodist Church in Terra Alta, WV on Thursday, December 28, 2017 from 10:00AM until 11:00AM. Services will be conducted at 11:00AM following visitation at the church with Pastor Ernie Metheny officiating. Burial will follow in the Terra Alta Cemetery.
Pallbearers will be Rodney Hill, Danny Hill, Jacob Hill, Zachary Hill, John Hill, Rick Hill, Dave Hill, and Pat DeLauder.
In lieu of flowers donations may be made to the Trinity United Methodist Church, 102 3rd Street, Terra Alta, WV 26764.
The Arthur H. Wright Funeral Home in Terra Alta is assisting the family with arrangements.
Condolences may be extended to the family at www.arthurwrightfuneralhome.com