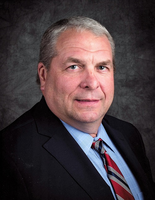 Tony Jerome Lewis
Tony Jerome Lewis,
59, of Eglon, died Sunday, September 24, 2017, at his home with family by his side.
The son of Albert H. Lewis of Kingwood and Roberta Fay Lewis of Houston, TX, he was born December 1, 1957 in Heidelberg, Germany.
In addition to his parents, he is survived by his wife, Lyndia Sue Baker Lewis; two sons and spouses, Roger and Elida Paugh of Orlando, FL and Tucker and Jessica Paugh of Aurora; one daughter and spouse, Brittney and Corey Heinemann of Hudson, PA; one brother, Todd Lewis of Houston, TX; two sisters, Carla Vetter and husband Jeff, of Seguin, TX and Cara Lewis of Houston, TX; a half-brother and sisters: Joe Guthrie, Rhonda Glover, Penny Luckel, Connie Fultz and Jeannie McCracken; two grandchildren, Avery and Broghen Heinemann and numerous nieces and nephews.
Tony was a member of Brookside Brethren Church, Eglon. He was a retired U.S. Army National Guard Veteran with over 26 years, where he served tours in Desert Storm and Enduring Freedom. He worked for Mettiki Coal Company for 15 years and American Long Wall for three and while there was a Mine Forman and Fireboss. He had 18 years with the phone company starting with Bell Atlantic to Verizon and then Frontier. He had his Master Electrician's license in WV, MD and VA and was the owner of T&T Electric. He was a local Generac dealer. He also owned T&L Excavating and Maple Hurst Farm.
He was a member of the Order of Eastern Star, 129, Preston County Shrine Club, Ali Ghan Shrine, Cumberland, MD, Osiris Shrine Club, Grafton, Scottish Rite of Preston County, Free Masons, 90, Preston County Farm Bureau, VFW Post 578, American Legion Post 71, Elks Lodge 2481, Free Masonry of Wheeling, Rowlesburg Lodge 165, the Aurora VFD and Ambulance EMT.
He was elected to the House of Delegate's representing the 53rd District.
He was preceded in death by his grandparents, James and Edna (Blamble) Lewis and Robert and Sue Simonson.
Family and friends will be received at the Arthur H. Wright Funeral Home, Terra Alta on Wednesday from 2-4 and 6-8 and from 10:00 am on Thursday, September 28, 2017 until the 11:00 am time of service with Pastor Mark Teets officiating. Cremation services will be provided and burial will be at a later date in the WV National Cemetery, Pruntytown, WV.
Condolences may be made at www.arthurwrightfuneralhome.com