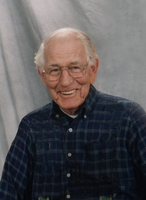 Joseph Russell McGinnis
Joseph Russell McGinnis Sr., 90, of Centreville, VA, formerly of Front Royal, VA passed away Monday, August 14, 2017 at the residence of his daughter in the presence of his loving family.
He was born September 9, 1926 a son of the late Joseph Leo McGinnis and Edna Garrett McGinnis.
Joseph served in the United States Navy. He worked at the Arlington National Cemetery under the Department of the Army and retired in 1988.
He was a loving father, grandfather, great grandfather and great great grandfather.
He is survived by his ten children, Carol Sue McGinnis of Winchester, VA, Nancy Lee McGinnis of Strasburg, VA, Gloria Jean Yates of Ohio, Sandra Darlene Hamm of Lurray, VA, Andrea Cheryl Reveria of Alexandria, VA, Jacqueline Lucille Kekeris of Centreville, VA, Mickie Suzanne Frizzell of Manassas, VA, Jeffery Leo McGinnis of Fairfax, VA, Gregory James McGinnis of Corinth, TX, and Loretta Wyatt of Marshall, VA; 26 grandchildren; 19 great grandchildren; a great great grandson; and two nephews, Gary McGinnis of Mt. Lake Park, MD and Thomas McGinnis of Gormania.
He was preceded in death by a daughter, Barbara Jo Wallace; a son, Joseph R. McGinnis Jr., and a niece, Angela McGinnis of Brookside.
Friends may call at the Arthur H. Wright Funeral Home in Terra Alta on Saturday, August 19, 2017, from 11:00 a.m. until the 1:00 p.m. service time with Rev. Suwaylu Adams of The Lords Chapel, Winchester, VA officiating. Interment will follow in the Crellin Cemetery in Crellin, MD.
Military honors will be accorded by the United States Navy, and the combined Honor Guard from the American Legion Post #71 and the Deer Park VFW Post #10077.