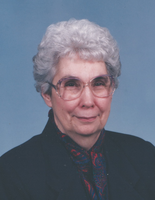 Nola Virginia "Joann" Anderson
Nola Virginia (Joann) Anderson departed on her journey to heaven on Tuesday, June 20, 2017 at her home in Terra Alta. She was born on December 28, 1932, the daughter of the late Clyde Mersing and Dorothy (Johnson) Mersing. Nola was known as "Meemaw" to her 15 grandchildren and 19 great grandchildren. She loved and cherished each one dearly!
Joann grew up in the depression era as a coal miner's daughter; she loved her big family and enjoyed family reunions. She loved to cook, sew and work in her vegetable and flower gardens. She loved babies!!! God truly blessed her with a lot of babies to love.
Joann was married to Rev William E Anderson for 49 years, until he departed on his journey to heaven in 2003. She was a military wife for twenty years and then a Pastors wife for twenty five years. She loved her country, but most of all she loved serving Jesus Christ! She faithfully served in the United Methodist Church.
She is survived by three brothers and spouses, Don and Leanna Mersing of Woodbridge, VA, Charlie and Janice Mersing of Terra Alta, Stanley and Irene Mersing of Crellin, MD; three sisters, Clara Lockhart of Terra Alta, Carolyn and husband Hansel Gibson of Bruceton Mills, WV, and Kay and husband Cecil Royce of Terra Alta; two sons, William E. and wife Lois Anderson of McHenry MD, Larry Anderson of Terra Alta; and two daughters and spouses, Karen and Steve Nordeck of Terra Alta, and Linda and Jody Boatman of Kingwood.
She was preceded in death by her husband Rev William E Anderson; one son, Jeffrey L. Anderson; three brothers, Clyde (Dwayne), Ervin and John Mersing and one sister Peggy Kelley.
Donations may be made in her memory to WV Caring, PO Box 760, Arthurdale, WV 26520.
Family and friends will be received at the Arthur H. Wright Funeral Home, Terra Alta on Friday from 4-8:00 p.m. and from 10:00 on Saturday, June 24, 2017 until the 11:00 a.m. time of service with Rev. Larry Anderson officiating. Burial will follow in the Terra Alta Cemetery.
Personal condolences may be made at www.arthurwrightfuneralhome.com