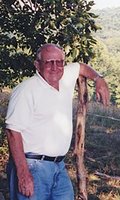 Kenneth Hamilton Paden
Kenneth Hamilton Paden,
91, of Terra Alta, passed away peacefully on Thursday, May 18, 2017, at home with family by his side.
The son of the late Clarence Samuel and Anna Mae Patterson Paden, he was born August 14, 1925 in Morgantown, WV.
He was Christian by faith. Ken was a Mason, Shriner, a member of the Rowlesburg Volunteer Fire Department, and President of Modern Maturity Center in Dover, DE. He worked on the B & O Railroad, J & L Steel in Aliquippa, PA, was a self-employed professional painter, and an avid gardener. His most notable achievement was his family.
He is survived by his wife of 74 years, Norma Ray Knotts; two daughters, Sandra Paden (John) Hagan of Rowlesburg and Yvonne Paden Gover of Polk City, FL; daughter-in-law, Betty Paden of Cambridge, OH; one brother, Phillip L. "Tom" (Marilyn) Paden of Hanford, CA; nine grandchildren, 17 great grandchildren, 1 great great granddaughter, several nieces and nephews, and treasured friends.
In addition to his parents, he was preceded in death by a son, Kenneth J. Paden; a son-in-law, Jim Gover; four brothers, Clarence Jr., Cleophus, and Leroy Paden, and an infant brother; and three sisters, Lenora Paden, Mildred Parker, and Delores Creamer.
Family and friends will be received at the Arthur H. Wright Funeral Home, Terra Alta from 11:00 a.m. on
Saturday, May 27, 2017 until the 12:00 noon time of service with Rev. Sonny McNear officiating. Burial will follow in the Aurora Cemetery.
In lieu of flowers, donations may be made in his memory to Hospice Care Corp., PO Box 760, Arthurdale, WV 26520 or Shriners Hospital for Children, 2900 Rocky Point Drive, Tampa, FL 33607.
Condolences may be made at www.arthurwrightfuneralhome.com. Though his death is mourned, his full and adventurous life is celebrated by all who knew and loved him.