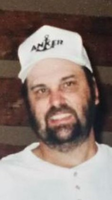 Allen Ray Hershman
Allen Ray Hershman, 64, loving husband, father and pap, of Terra Alta, passed away Friday April 7, 2017 after a long battle with Leukemia.
He was born August 25, 1952 in Oakland, MD a son of the late Everett and Virginia Johnson Hershman.
Allen was extremely proud of his girls and grandchildren. He loved spending valuable time with his family and watching his grandchildren grow. He worked as a heavy equipment mechanic for Patriot Coal and Laurita Inc. He enjoyed watching NASCAR and old westerns.
Allen is survived by his loving wife of 43 years, Marietta (Bolyard) Hershman, whom he married September 15, 1973; two daughters, Shelby Lewis and husband Bill and Kellie Hardesty and husband Scott; five grandchildren (whom he loved more than life itself), Erin Thomas and husband Wade, Anthony Lewis, Tyler Rhodes, Conner Hardesty and Reed Hardesty all of Terra Alta; two brothers, Jess Hershman and wife Marg of Terra Alta and Ralph Hershman and wife Joyce of Fl.; one sister, Jean Tenney and Charles of Terra Alta; one sister in law, Eva Hershman of MD; father in law Jehu Bolyard; two sisters in law; Nancy Sturgeon, Wanda Sines and husband Sonny; brother in law, Darrell Bolyard and wife Debbie; many nieces and nephews that he loved and cared for like they were his own and two special great nieces, Lesa Tasker and Mariah Kulak.
In addition to his parents he was preceded in death by four brothers, June, Doc, Carl and Neil; two sisters, Edna and Helen and his mother in law Elsie Bolyard.
Friends may call at the Arthur H. Wright Funeral Home in Terra Alta on Monday April 10, 2017 from 2 to 4 and 6 to 8 p.m. Funeral services will be held 11 a.m. Tuesday April 11, 2017 at the Funeral Home with Rev. Eric Beeman officiating. Interment will follow in the Terra Alta Cemetery.
Condolences may be extended to the family at www.arthurwrightfuneralhome.com.